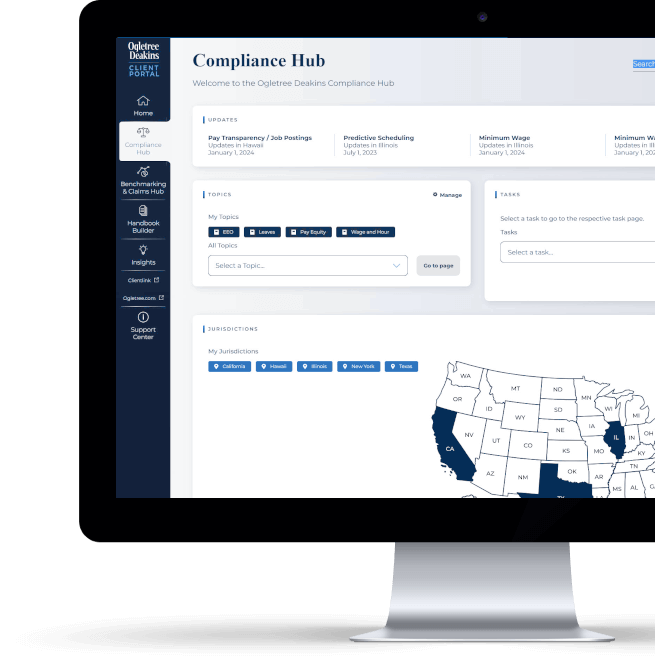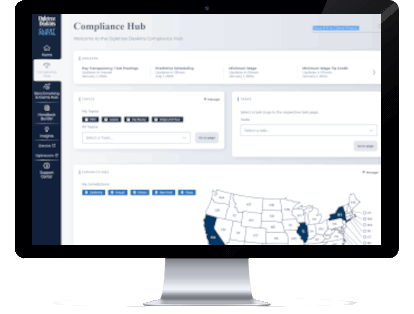 Staying up to speed on compliance?
Get real-time updates on complex and changing laws, current benchmarking data, interactive data visuals, key insights, and hundreds of customizable templates on the Ogletree Deakins Client Portal. Access the portal from any device and tailor it to your needs. For more information, reach out to clientportal@ogletree.com.

Law Summaries
Access plain-English, user-friendly summaries of 75+ legal topics in 50 U.S. states, the District of Columbia, and the federal U.S. government.

Benchmarking & Claims
View and filter key data on interactive benchmarking dashboards, request and respond to surveys, and analyze trends from courts and agencies.

Handbook Builder
Create and customize 50-state-compliant U.S. employee handbooks.

State Law Maps
See where multi-jurisdictional compliance challenges arise with interactive maps covering a wide array of topics.

Tasks
Get step-by-step guidance, with links to relevant laws and documents, on complex and critical employment-related tasks, such as onboarding, background checks, and closures.

Documents and Tools
Take advantage of 500+ checklists, forms, applications, notices, guides, training resources and policy templates—all current and customizable.