On July 21, 2020, Connecticut Governor Ned Lamont issued Executive Order No. 7III, which made mandatory a previous advisory self-quarantine recommendation for individuals—including employees—traveling from states with high COVID-19 infection rates. While an exemption for essential travelers still applies, there were a number of changes, including the following:
1. More than half of the United States is now on the "Affected State" list.
Thirty-one U.S. states are currently designated as "Affected States" on the advisory list. Any Affected State (in red below) is subject to the travel advisory. The list will be updated weekly.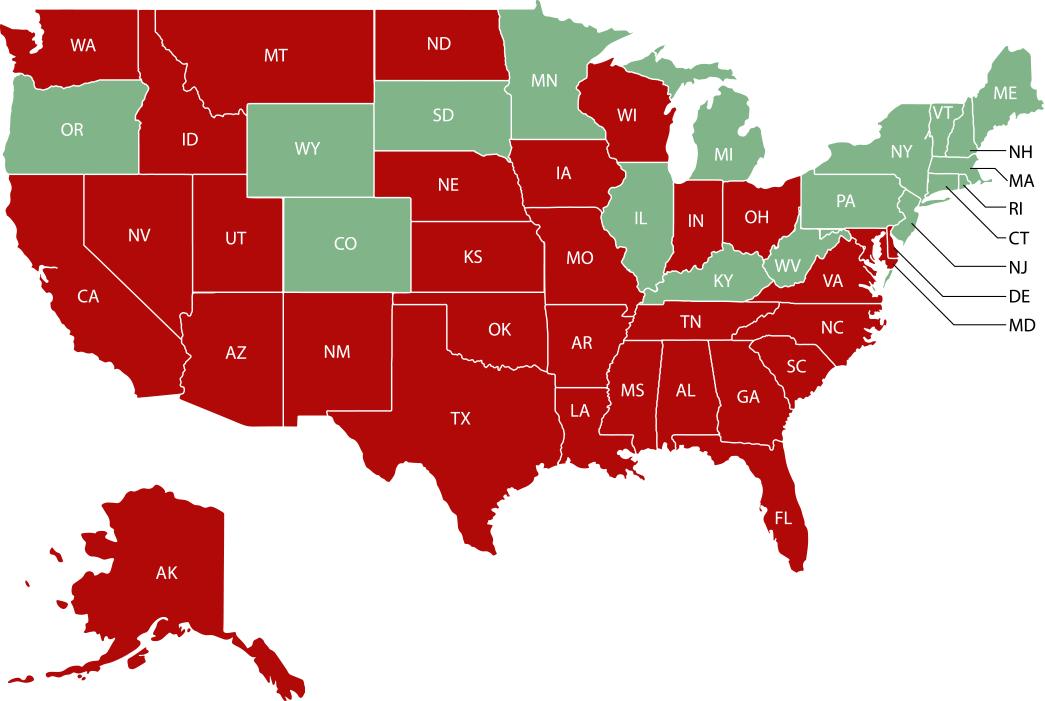 Source: State of Connecticut
2. Travelers are required to complete Connecticut's Travel Health Form.
Anyone who has spent 24 hours or longer in an Affected State within 14 days prior to arriving in Connecticut must complete a travel health form upon entering Connecticut. The traveler will be required to disclose:
his or her name;
the last Affected State in which the traveler spent 24 hours or longer;
the last date of stay in the Affected State;
the date of arrival in Connecticut;
the address of the traveler's designated self-quarantine location in Connecticut;
the length of stay in Connecticut;
address in home state;
cell phone number:
contact phone number while in Connecticut;
method of travel into Connecticut; and
information regarding accompanying minors.
3. Connecticut is now implementing fines of up to $1,000 per violation
Failure to self-quarantine or "complete the Travel Health Form truthfully and accurately" may result in a civil penalty of up to $1,000 for each violation. A hotline and email address have been established to report violators.
Fines are appealable within five business days of the date of the notice of civil penalty by requesting a hearing before the Connecticut Department of Public Health. A hearing will be held within 15 business days of the department's receipt of the appeal request.
4. There are limited exemptions from Connecticut's self-quarantine requirements.
The travel advisory applies to any traveler "who has spent twenty-four hours or longer in an Affected State within fourteen days prior to arriving in Connecticut, but does not include an individual remaining in Connecticut for less than twenty-four hours." It applies equally to residents of Connecticut and nonresidents.
An exemption applies to government employees traveling on government business and to critical infrastructure employees, as designated by the U.S. Cybersecurity and Infrastructure Security Agency (CISA). The 16 critical infrastructure sectors subject to this exemption are set forth in the graphic below. In order for the exemption to apply, the travel must be "related to … work in Connecticut."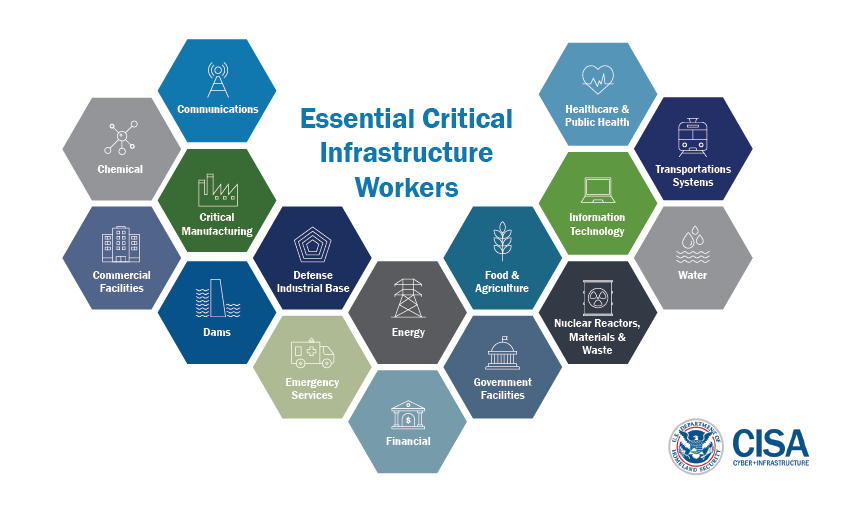 Source: CISA
5. There is a limited testing alternative to quarantine.
Quarantine is required only if the individual has spent 24 hours or longer in an Affected State within fourteen 14 days prior to arriving in Connecticut.
According to the order, if the traveler is "unable to self-quarantine for the required [14-day] period," there is a testing alternative. The testing alternative may be satisfied through a negative viral test result (not an antibody test) conducted within 72 hours prior to arriving in Connecticut.
If a test was obtained within this 72-hour window, "but the result is still pending at the time of arrival in Connecticut," the traveler must self-quarantine until the test result is received. A negative test result eliminates the need for further quarantine.
According to Connecticut's travel advisory, "If the test result is positive and the traveler is asymptomatic, the traveler shall self-isolate for ten (10) days from the date of the test."
If the test result is positive and the traveler is symptomatic, the advisory states that the traveler "should seek medical assistance."
Connecticut's travel advisory grew out of guidance issued in June 2020 by the governors of New York, Connecticut, and New Jersey, who worked in tandem to develop the initial travel advisory. The tri-state quarantine advisory applies to anyone who travels by train, bus, car, plane, and any other method of transportation and applies equally to travel for business or pleasure. The tri-state quarantine advisory does not apply to any individual passing through an affected state for a limited duration (i.e., less than 24 hours). There are currently no restrictions on international travel.
Ogletree Deakins will continue to monitor and report on developments with respect to the COVID-19 pandemic and will post updates in the firm's Coronavirus (COVID-19) Resource Center as additional information becomes available. Important information for employers is also available via the firm's webinar programs.