The September 2023 Visa Bulletin has been released by the U.S. Department of State and shows little movement from last month.
Quick Hits
The EB-2 final action date for all countries except China and India will advance by three months, to July 1, 2022.
The EB-3 final action date for China will advance by three months, to September 1, 2019.
All other employment-based final action dates remain unchanged.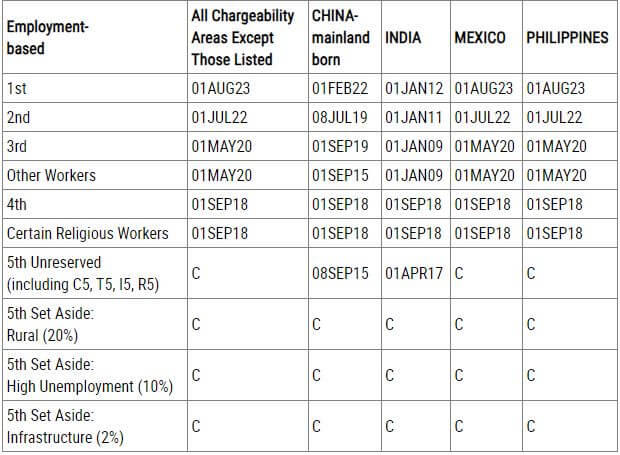 Source: U.S. Department of State, September 2023 Visa Bulletin
U.S. Citizenship and Immigration Services (USCIS) has confirmed that it will accept Form I-485, Application to Register Permanent Residence or Adjust Status, from foreign nationals with a priority date that is earlier than the final action dates listed in the September 2023 Visa Bulletin.
The State Department confirmed the immigrant visa numerical limitations for the fiscal year (FY). The FY 2023 worldwide employment-based preference limit is 197,091. The State Department indicated that most employment-based preference category limits and/or the overall employment-based preference limit for FY 2023 are expected to be reached during September. When an annual limit is reached, the affected preference category will immediately become "unavailable," and no further requests will be honored for the remainder of the fiscal year.
Next Steps
More significant changes are expected in the October 2023 Visa Bulletin, when new annual visa allocations become available for FY 2024.
Ogletree Deakins' Immigration Practice Group will continue to monitor developments and provide updates on the Immigration blog as additional information becomes available.
Follow and Subscribe
LinkedIn | Twitter | Webinars | Podcasts