Mexico's federal government continues to relax restrictions on business and social activities in accordance with the four-tiered national traffic light monitoring system as COVID-19 pandemic conditions continue to improve in Mexico's states.
Since the report issued for March 1–14, 2021, none of the nation's 32 states have been in red traffic light status, the most restrictive of the monitoring system. At the other end of the system's color spectrum, seven states are currently in green status, up from three in the report for March 15–28, 2021. At green status, business and school activities are reopened without restrictions.
The monitoring system, which was implemented in June 2020 and issues reports for two-week periods, is used to alert residents to the epidemiological risks of COVID-19 and provide guidance on restrictions on certain activities in each of Mexico's states. Below is a map for the period of March 29, 2021, to April 11, 2021, indicating the COVID-19 risk level in each of the states.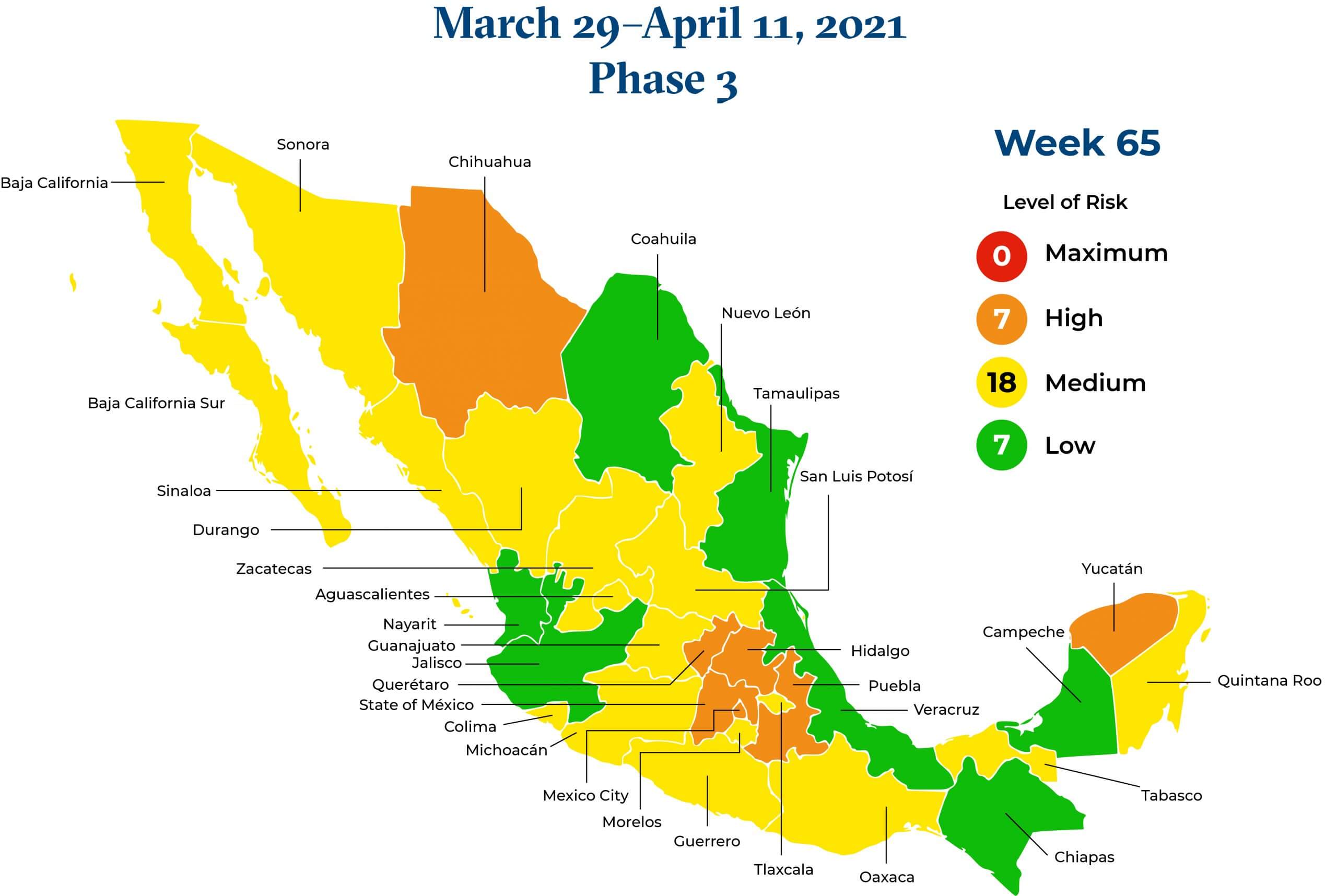 This chart presents the traffic light status of each state, and, as applicable, variations between federal and local traffic light statuses based on publications of the federal Ministry of Health and status reports provided by each state.
According to federal health data, as of March 29, 2021, there had been 2,421,845 estimated cases of COVID-19 infections and 201,826 deaths due to COVID-19 in Mexico. Federal health data also shows that 1,765,244 people have recovered from COVID-19 and 5.56 percent of the population has been vaccinated. All of the states are reporting hospital occupancy rates due to COVID-19 of less than 50 percent. At the national level, only 18 percent of hospital general beds are occupied and 28 percent of hospital beds with ventilators are occupied.
In light of the improving conditions, the federal government and state governments are urging everyone to continue observing health safety measures, such as wearing facial masks and maintaining social distancing, in order to keep Mexico from getting hit by a third wave of the pandemic.
Finally, two developments relevant to the resumption of full business activities in Mexico are worthy of note:
Effective January 12, 2021, a new chapter in the Federal Labor Law came into force regulating telework in Mexico and requiring several obligations of employers and employees. Employers must (i) provide, install, and maintain the necessary equipment for telework, and (ii) assume the costs related to telework, such as telecommunications services and the proportional cost of electricity. Employees must timely inform their employers of the costs of the services that must be reimbursed. Likewise, the secretary of labor and social welfare has a term of 18 months to issue an Official Mexican Standard governing the requirements in the area of occupational safety and health for teleworking.
On March 30, 2021, the Federal Labor Law was amended (Article 90). A new definition to the minimum wage was issued, stating that the minimum wage shall be sufficient to satisfy the normal necessities of a person's or family's life in the material, social, and cultural spheres, and provide for the education of children.
Ogletree Deakins will continue to monitor and report on developments with respect to the COVID-19 pandemic and will post updates in the firm's Coronavirus (COVID-19) Resource Center as additional information becomes available. Important information for employers is also available via the firm's webinar and podcast programs.
Pietro Straulino-Rodríguez is the managing partner of the Mexico City office of Ogletree Deakins.
O. Iván Andrade Castelán is a law clerk in the Mexico City office of Ogletree Deakins.