Quick Hits
The EB-2 and EB-3 Final Action Dates for China will each advance by three weeks, to October 22, 2019 (for China EB-2), and January 22, 2020 (for China EB-2), respectively.
The EB-4 Certain Religious Workers category for all areas will become "unavailable."
There are no changes in all remaining employment-based categories.
For December 2023, U.S. Citizenship and Immigration Services (USCIS) has confirmed that the Dates for Filing chart in the December 2023 Visa Bulletin will continue to be used in determining eligibility for I-485, Application to Register Permanent Residence or Adjust Status, filings. The December 2023 Visa Bulletin continues the previous month's trend of showing little to no movement across most employment-based categories. The Final Action Dates chart for employment-based categories follows below.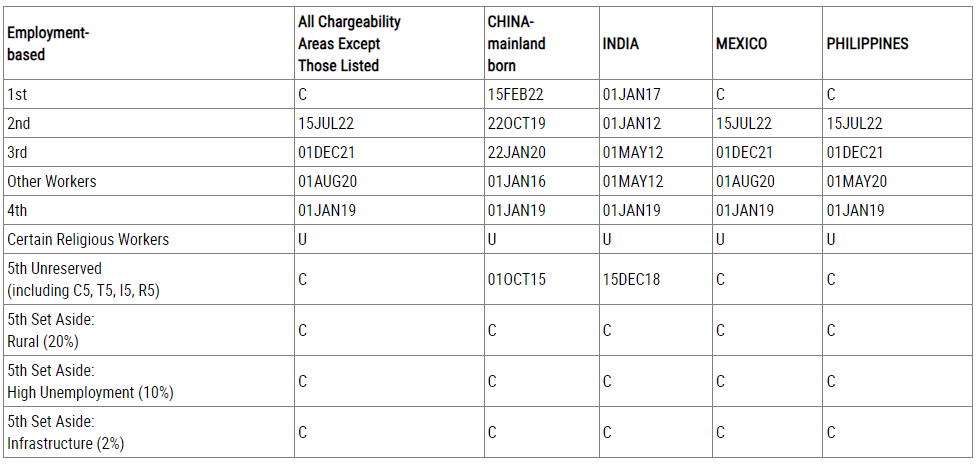 Source: U.S. Department of State, December 2023 Visa Bulletin
The State Department did not provide any additional commentary or insight in the December Visa Bulletin; however, it is important to recall that the October 2023 Visa Bulletin predicted that there would likely be little movement in the November and December Visa Bulletins. Specifically, the October Visa Bulletin noted that the State Department was focused on "an intention to keep visa issuance within quarterly limits in accordance with INA [Immigration and Nationality Act] sections 201 (a)(2) and 203(g)." Therefore, it was unlikely that the December Visa Bulletin would present any substantial changes from the October or November versions.
Looking Ahead
Because January 2024 marks the beginning of the government's second quarter of its fiscal year, there is a renewed possibility that the upcoming January 2024 Visa Bulletin will show more significant movement among employment-based categories.
Ogletree Deakins' Immigration Practice Group will continue to monitor developments and will provide updates on the Immigration blog as additional information becomes available.
Follow and Subscribe