Quick Hits
The EB-1, EB-2, and EB-3 Final Action Dates and Dates for Filing for employment-based visa applications remain unchanged from October for India and China.
The EB-2 Final Action Dates for Mexico, Philippines, and "All Other" have advanced one week to July 15, 2022.
All other employment-based final action dates remain unchanged.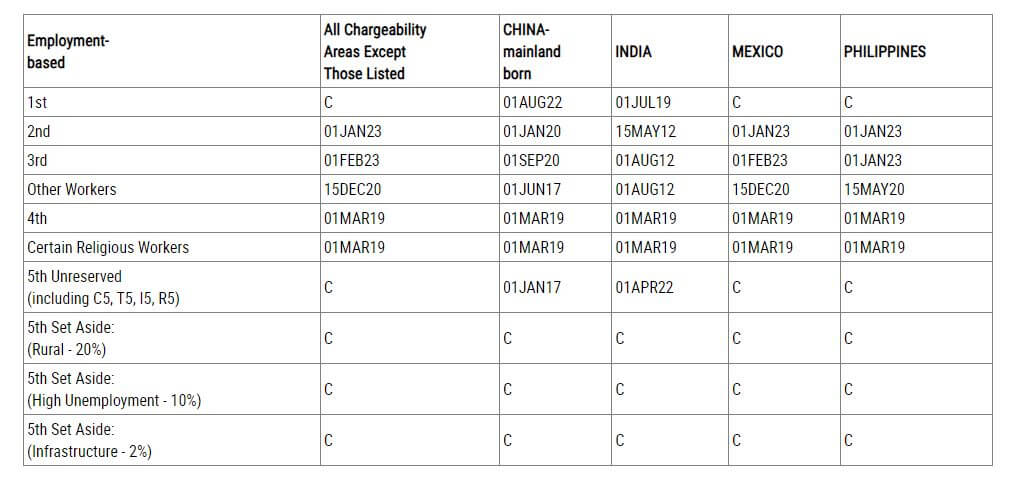 Source: U.S. Department of State, November 2023 Visa Bulletin
U.S. Citizenship and Immigration Services (USCIS) has confirmed that it will accept Form I-485, Application to Register Permanent Residence or Adjust Status, filed pursuant to the Dates for Filing chart (above) for employment-based preference categories in the November 2023 Visa Bulletin. As noted in the October 2023 Visa Bulletin, "[d]ate advancements reflect an intention to keep visa issuance within quarterly limits in accordance with INA sections 201(a)(2) and 203(g), with potential date advancements throughout the fiscal year."
As shown in the November 2023 Visa Bulletin, visa demand remains high going into next month. It is likely that the December 2023 Visa Bulletin will also show little movement. Based on the government's commitment to quarterly limits, the December Visa Bulletin will be a helpful barometer to determine whether the government's October 2023 Visa Bulletin accurately predicted demand.
Ogletree Deakins' Immigration Practice Group will continue to monitor developments and provide updates on the Immigration blog as additional information becomes available.
Follow and Subscribe