When one of our clients recently received nearly-identical demand letters from remote, unrelated, and unrepresented parties claiming website accessibility and threatening legal action for damages under the Americans with Disabilities Act (ADA), we decided to look into it. Below are samples of similar demand letters.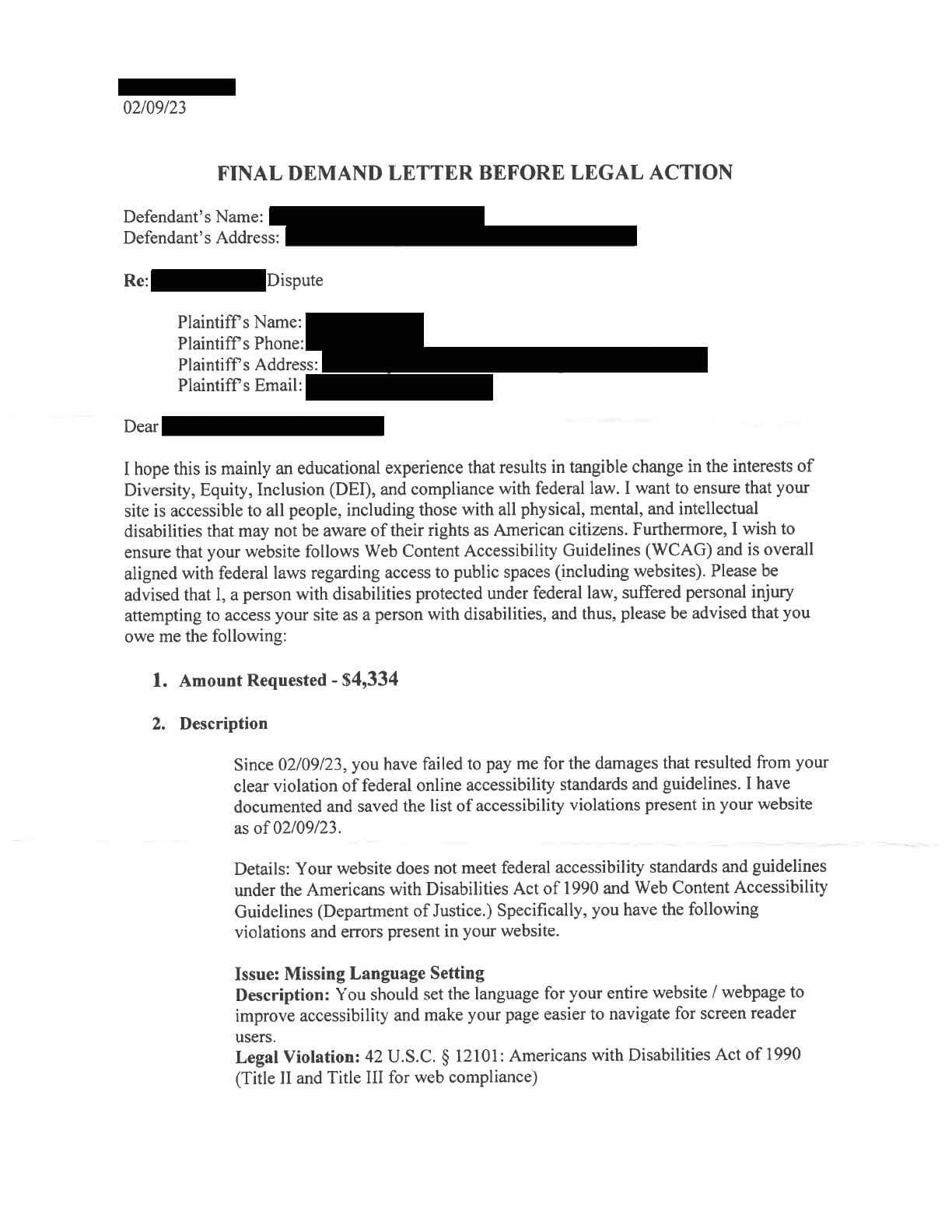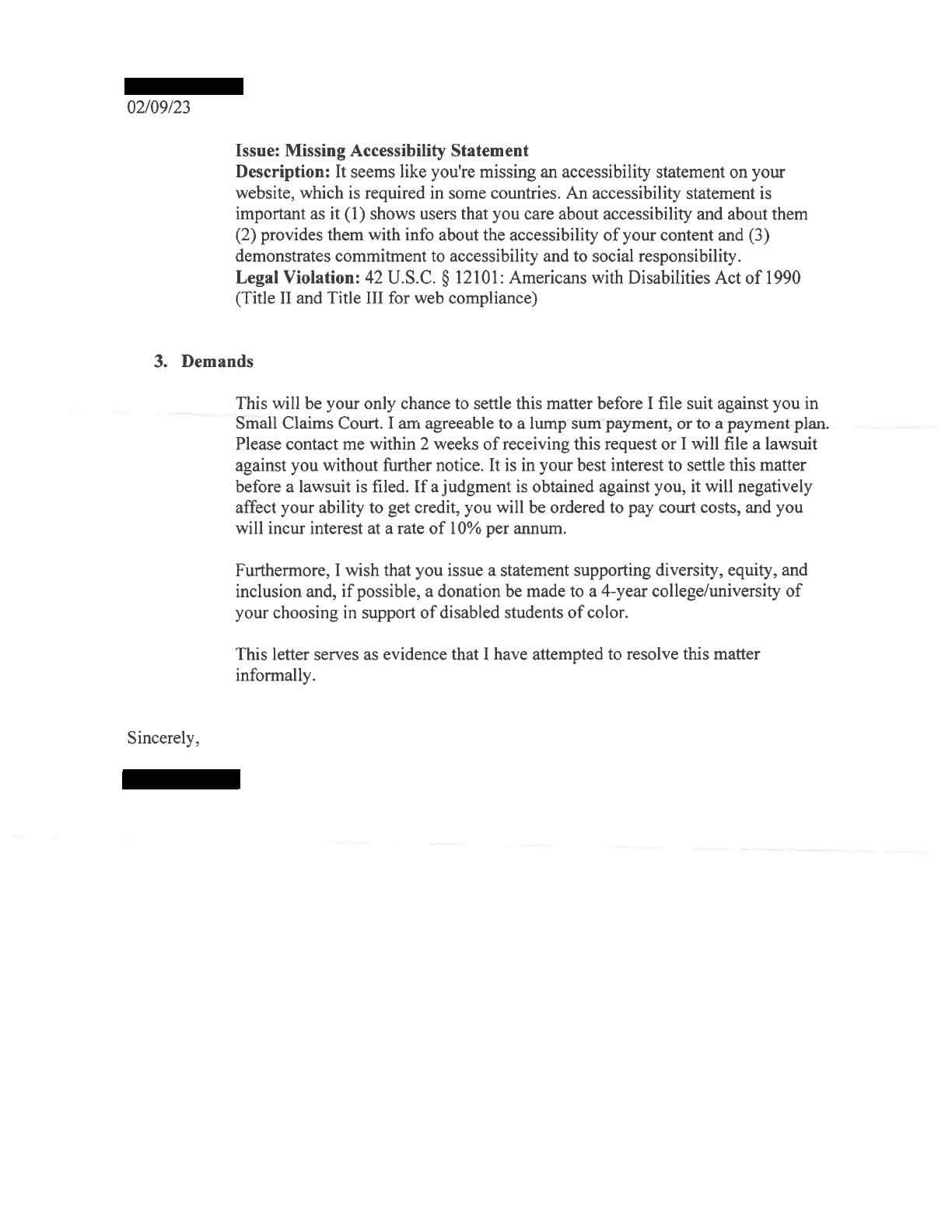 After investigating the source of the demand letters, we found a self-pronounced health care advocate providing instructions and template language online describing how to pursue website claims through demand letters. The website also implied that a bot can be used to generate complaints if the demands are not met. Whether a human healthcare advocate or bot, it is clear that a copycat situation has emerged and that clients should be aware of these claims.
Reacting To These Copycat Claims
Many of our clients have made rational, economic decisions to quickly settle their website accessibility claims. If bots are producing these demand letters and/or the court complaints that follow, it is likely that the claimants may well be pursuing a scheme and lack a valid claim and that settling one of these will provide no assurance that the bot or copycats will not bring more claims in the future.
As a result, companies that receive similar demand letters may want to strongly consider their next steps. A response may indicate some level of concern that tells the demanding party that the company is willing to pay to dispense with the claim. Fighting these claims, while more costly than settling, may be a better course of action. One successful defense in these cases may prove to be a longer-term defense in defeating bot-produced or copycat claims.
Key Takeaways
This kind of activity serves as a further reminder to places of public accommodations of their obligations under Title III of the ADA to make their websites accessible. In March 2022, the Department of Justice (DOJ) published a guidance titled "Guidance on Web Accessibility and the ADA." The new nonregulatory guidance offers little assistance to the business community on the two undecided questions that have fueled the ever-rising volume of litigation in this area. However, it appears to provide some insight into what types of website accessibility features the DOJ believes are important to make web content accessible to people with disabilities.
Based on the DOJ's guidance and past best practices, companies may want to consider undertaking one or more of the following actions regarding their approach to website accessibility.
When building a new website or significantly redesigning one, consider website accessibility a part of the planning, design, and build of that website.
Consider making the website development designer or developer responsible for delivering a Web Content Accessibility Guidelines (WCAG)-conforming website.
For businesses that do not want, or do not have, the resources available to make their websites (or portions of them) accessible, consider getting current on the latest litigation developments in order to understand the exposure as the plaintiffs' bar expands the scope of its claims to include more websites and more portions of those websites.
For businesses that have made significant efforts at website accessibility, consider periodic website audits—using both automated and manual testing tools—to ensure ongoing access.
For businesses that decide to make their websites accessible, consider prioritizing the areas identified in the section of the guidance entitled "How to Make Web Content Accessible to People With Disabilities" and heavier-trafficked portions of the websites.
Regardless of efforts undertaken to make a website accessible, consider adding an accessible link to the website to a place where users can (a) report accessibility issues and (b) gain alternative access (for example, through a customer service representative) to the goods, services, and information available on the website. Also consider making those alternatives as available as possible to approximate the round-the-clock availability of the website.
Ogletree Deakins' Disability Access Practice Group will continue to monitor developments with respect to website accessibility litigation and will provide updates on the Disability Access blog as additional information becomes available. Important information for employers is also available via the firm's webinar and podcast programs.