We previously reported on COVID-19–related employment lawsuits that we tracked from late March 2020 through early May 2020. Since then, the number of lawsuits has steadily risen as employers have resumed operations after shelter-in-place or stay-at-home orders were lifted and students returned to school in virtual or hybrid environments. To track this litigation and to identify trends, we developed an Interactive COVID-19 Litigation Tracker that details where COVID-19–related litigation is taking place by state, the industries affected, and the types of claims asserted against employers and educational institutions.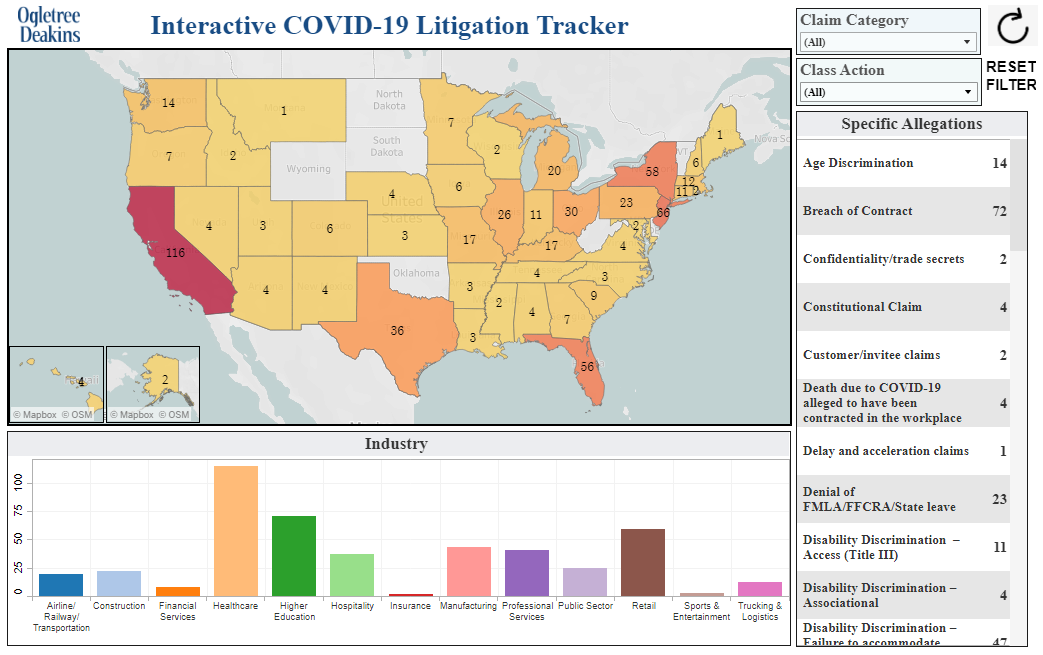 Our Interactive COVID-19 Litigation Tracker shows that the largest number of claims filed so far have been in California, New Jersey, New York, Florida, and Texas. The following are the most common claims alleged:
Retaliation
Unsafe workplace
Disability discrimination
Wage and hour
Denial of leave
Wrongful discharge
Race/national origin discrimination
Age discrimination
Reductions in force (RIF) / Worker Adjustment and Retraining Notification Act (WARN)
This information is instructive for employers to utilize in taking steps to prevent similar claims against their businesses. These steps may include creating robust workplace safety plans and updating leave policies; training managers, supervisors, and HR professionals regarding plans and policies; monitoring enforcement; providing resources through which employees and business invitees can provide feedback; and documenting the steps taken. These steps may help minimize the risk of similar claims being filed against employers and educational institutions and may bolster their defenses if they are sued.
Ogletree Deakins will continue to monitor and report on developments with respect to the COVID-19 pandemic and will post updates in the firm's Coronavirus (COVID-19) Resource Center as additional information becomes available. Important information for employers is also available via the firm's webinar programs.