Due to increased population mobility and the seasonal winter climate, the COVID-19 pandemic in Mexico has worsened, prompting many states to issue hygiene measures to reduce the rate of infection and hospital occupancy rates. According to the federal government's four-tiered traffic light monitoring system, 13 states are in red traffic light status (the status with the most stringent work and mobility restrictions), which is the highest number of states in this status since early August 2020. In addition, for the first time since late September 2020, no state is in green traffic light status, which is the only status without restrictions.
Among the federal jurisdictions of the Republic, Mexico City and the states of Guanajuato, Guerrero, Hidalgo, Mexico, Morelos, Nayarit, Nuevo Leon, and Puebla all have hospital occupancy rates of greater than 70 percent.
This chart presents the traffic light status of each state, and, as applicable, variations between federal and local traffic light statuses based on publications of the federal Ministry of Health and status reports provided by each state.
Below is a map for the period of February 1–14, 2021, indicating the COVID-19 risk level in each of the states.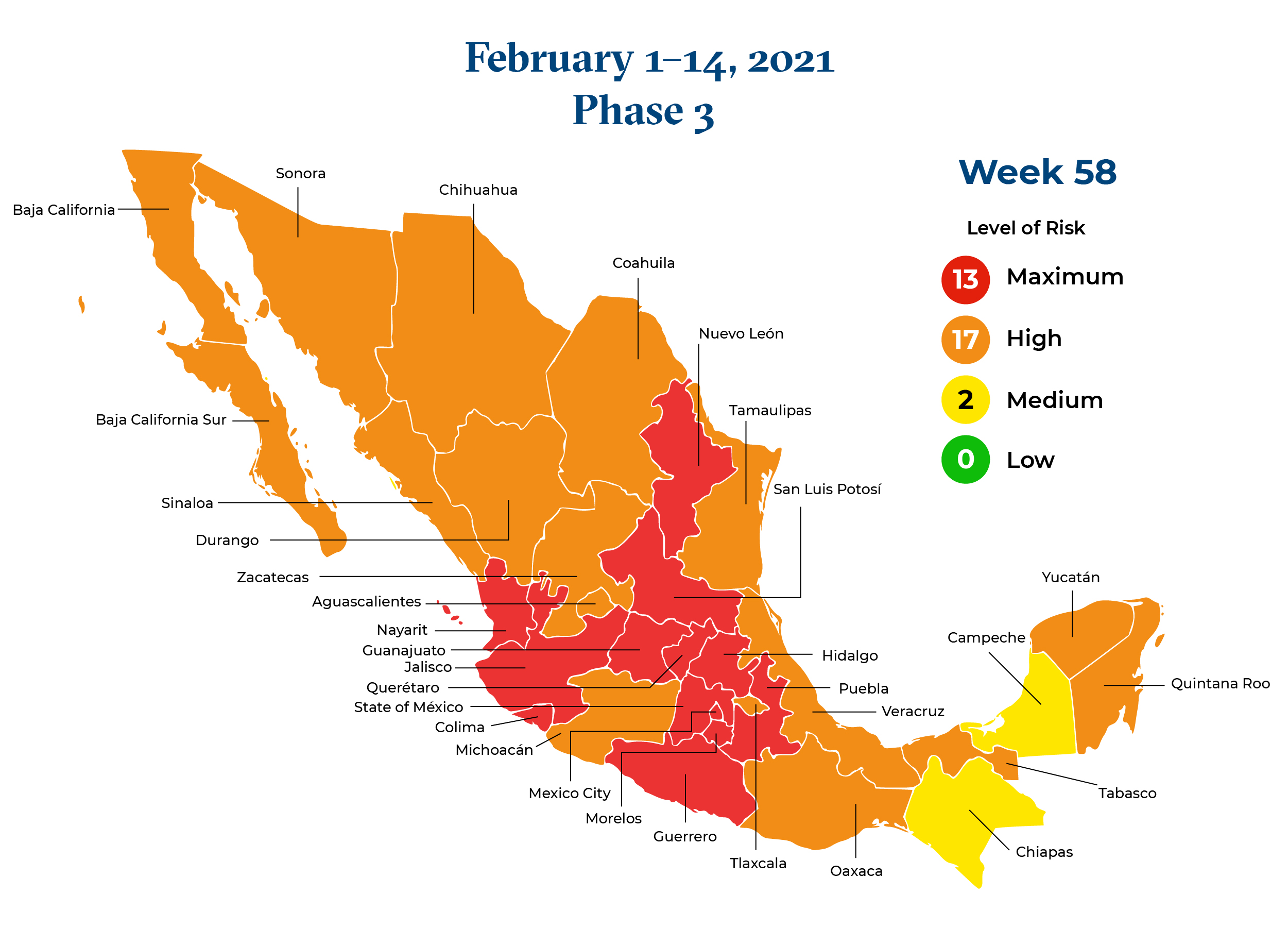 A national vaccination program has been started; however, to date less than 1 percent of the more than 126 million inhabitants of Mexico have received vaccines. According to the "National Vaccination Policy Against the SARS-CoV-2 Virus, for the Prevention of COVID-19 in Mexico," issued by the federal government, vaccinations are to be prioritized as follows:
Health personnel who treat individuals with COVID-19
Adults 60 years old and older
Individuals with comorbidities
Teaching staff in states in green traffic light status
The rest of the population over 16 years of age
Employers in Mexico may discharge employees who refuse to receive COVID-19 vaccinations. According to the Federal Labor Law, "employees have the obligation to submit to the provisions contained in the internal work regulation and official standards, in matters of safety, health, and work environment, as well as those indicated by employers for their safety and personal protection."
Considering that vaccinations protect the recipients of vaccines, as well as others in the workplace, it may be enough for employers to set forth in a policy the obligation to undergo vaccination or offer direct vaccinations to employees to continue activities in the workplace. Breaches of such an obligation may be enough to consider that employees are not complying and consequently subject to discipline.
Ogletree Deakins will continue to monitor and report on developments with respect to the COVID-19 pandemic and will post updates in the firm's Coronavirus (COVID-19) Resource Center as additional information becomes available. Important information for employers is also available via the firm's webinar and podcast programs.
Pietro Straulino-Rodríguez is the managing partner of the Mexico City office of Ogletree Deakins.
Iván Andrade Castelán is a law clerk in the Mexico City office of Ogletree Deakins.