"There are three kinds of lies: Lies, Damned Lies, and Statistics" has famously been attributed to Mark Twain, who himself attributed it to British Prime Minister Benjamin Disraeli. Data, however, never lies.
Ogletree Deakins' OSHA Tracker has a new feature that allows users to review Occupational Safety and Health Administration (OSHA) inspections, citations, and penalties activity according to city, in addition to the state and regional data. A review of the data shows some remarkable trends in Texas.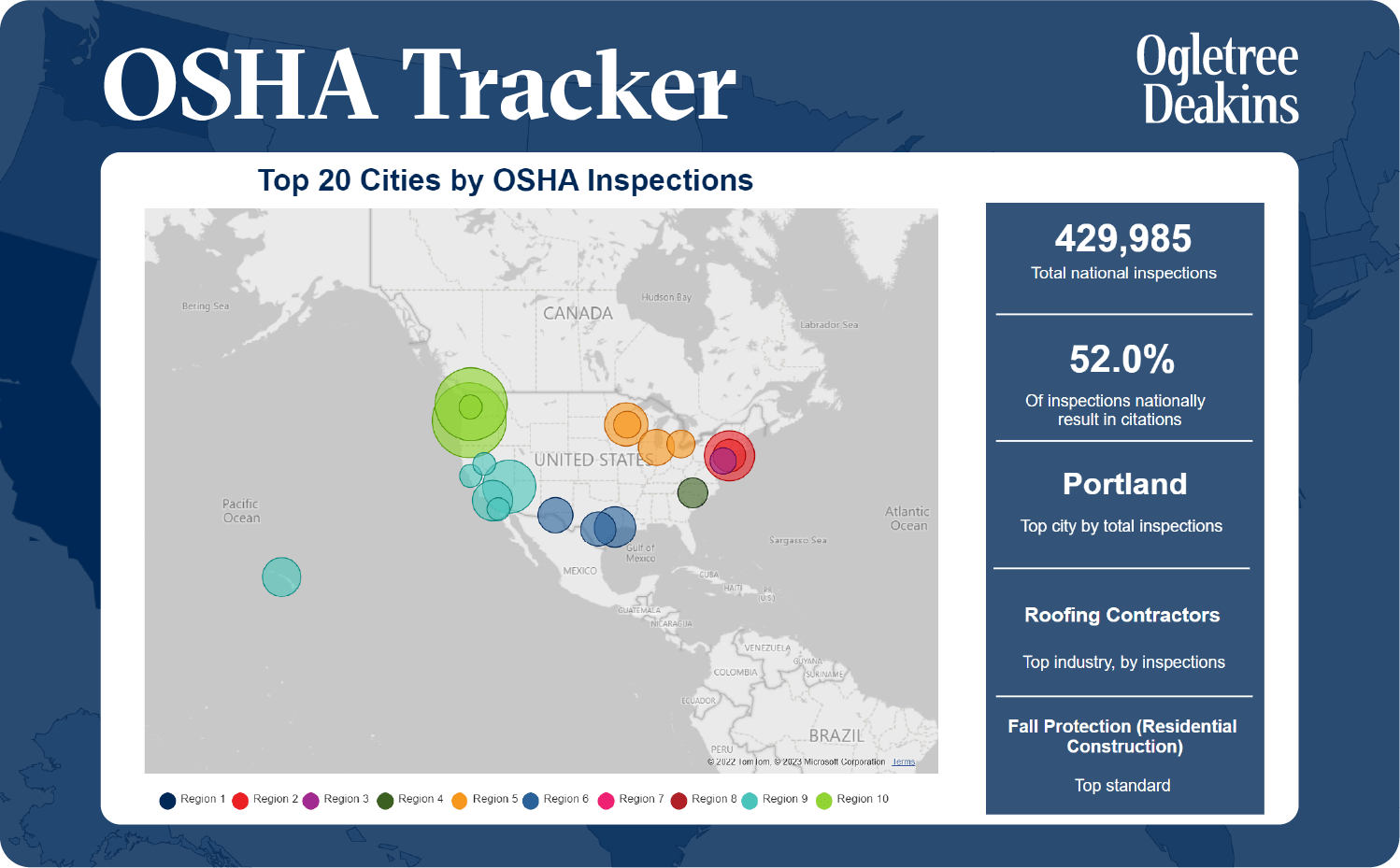 Citations
Texas is home to two of the twenty cities in the United States that have had the most citations issued since January 1, 2017—Houston and San Antonio. While San Antonio is both the seventh largest city by population in the nation and had the seventh highest number of citations issued (3,005 at the time this was written), Houston, the fourth largest city, with two area OSHA offices, had the thirteenth highest number of citations issued (2,660 at the time this was written).
For anyone who works in the health and safety field, it is probably no surprise that San Antonio framing contractors received more citations than any other type of employer and that the most commonly cited standards were the residential construction fall protection standards. In Houston, on the other hand, the most commonly issued citations fell under the machine guarding standard, whereas the most commonly cited type of employer was the roofing contractor.
OSHA Texas Citations Map
El Paso, the twenty-fourth largest city in the country, was third in the list with 1,883 citations issued, this time most going to residential roofing contractors and primarily for fall protection. In fact, a review of the twenty Texas cities with the most citations issued reveal that the most commonly cited standard is residential fall protection (in seventeen). The only cities that countered that trend are Houston (machine guarding), Pecos (electrical—identification, splices, and terminations), and Waco (appropriate eye and face protection). Contractors, whether roofing or framing, were the most cited employers in nineteen of those twenty cities. Most astounding is that only in Pecos, population 12,673 (2021 data), was contracting not the most common employer category to be cited (it was drilling oil and gas well employers), but also the only place where residential construction contractors were not the most cited by industry.
It is also interesting to see the widely disparate rates at which citations are issued to employers across the state, based on this city data. The statewide rate of inspections resulting in citations is 56.6 percent. Meanwhile, in Mansfield, population 74,368 (2021 data), the rate of inspections resulting in citations was a whopping 89 percent. By contrast, in Houston, the rate of inspections resulting in citations was only 46.5 percent. Houston had the lowest rate of inspections resulting in citations at 46.5 percent.
Penalties
As one would expect of the city with the highest population in the state, Houston leads Texas cities in the total amount of penalties issued from January 1, 2017, to present, at $9,128,663 in total, with an average per citation penalty of $3,432. In contrast, in Pasadena, which is a suburb of Houston, the average per citation penalty was $5,433 (the highest of the twenty cities reviewed on a total penalty basis). Interestingly, the industry that was cited the most in Pasadena was "all other miscellaneous waste management services." While the top citation type in the cities with the highest penalty totals remained residential construction fall protection, the top industries included no roofing or framing contractors.
In those twenty cities with the highest total amount of penalties, a few other interesting things stand out. First is that a variety of contractors other than framing and roofing contractors were often the most heavily cited, from HVAC and traditional electrical contractors to solar installation contractors. Also interesting was that in Plano, the industry cited with the highest penalties was supermarkets and other grocery (except convenience) stores. Who would have guessed the local supermarket would see such a level of OSHA activity?
The Ogletree Deakins OSHA Tracker reflects data gathered from government sources that is available to both clients and nonclients alike. It is a valuable tool in ascertaining the likely outcomes of inspections and can help employers that are subject to inspection gauge their potential exposure. For further information, please see our recent articles, "Ogletree Deakins OSHA Tracker City Feature Shines Light on Reno, Nevada Citations" and "Ogletree Deakins OSHA Tracker City Feature: Seattle, Las Vegas Had Most OSHA Inspections."
Ogletree Deakins will continue to monitor developments with respect to OSHA activity across the United States and will post updates on the firm's Workplace Safety and Health blog in addition to the firm's OSHA Tracker as additional information becomes available. Important information for employers is also available via the firm's webinar and podcast programs.